Decor trends come and go, which can often cause problems, especially if you have decorated your home in a certain way, only for the new "in" style to become all the rage.
People often forget that sometimes only a few changes here and there can make the necessary difference to incorporate the latest trends in decor.  With retro the current trend, why not consider these clock designs to help give your home a retro head start!
1. Hendrix Light Blue Retro Wall Clock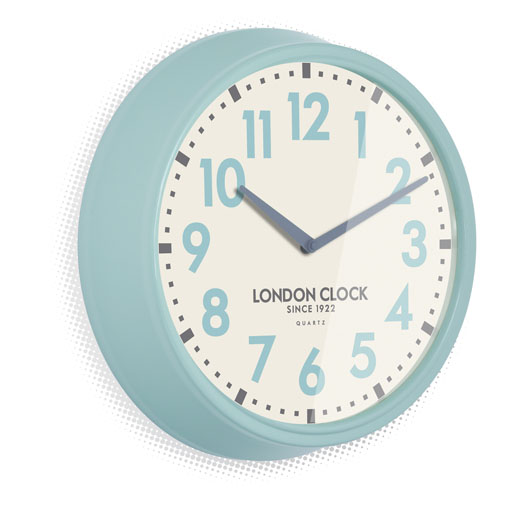 This wall clock is perfect for your kitchen although it will work in a number of other spaces.
It has a high gloss, light blue finish and features a strong metal frame with a thick glass lens. Large numerals, black clock hands and a diameter of 38cm offer great visibility, so no excuses for been late for anything!
This wall clock has a real 1960's feel about it.
This stunning deep grey wall clock is perfect for a number of rooms, including a kitchen, living room or even a bedroom.
Although retro in design it has some modern touches and will fit in perfectly in darker coloured rooms. The clock is 30cm in diameter and features beige numerals and clock hands which are extremely large and easy to read.
It is constructed out of multi density fibreboard.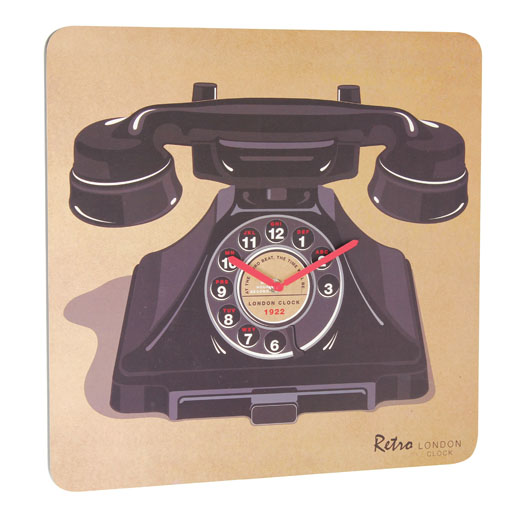 Groovy baby! Nothing could be more retro than this wall clock featuring an image of an old telephone. This clock is perfect to add a focal point to any room, even doubling up as some wall art. You could even consider placing it near to where you home telephone is kept or in an entrance hall. Although the clock features smaller numbers, it remains easy to read thanks to its bright red clock hands.
It is constructed out of multi density fibreboard.
4. Retro Typewriter  Wall Clock
This wall clock, featuring an image of a retro typewriter, is a great addition to any study although can be used in a number of rooms.
It features a large, 30cm face as well as white clock hands which are easily visible. Constructed out of multi density fibreboard, this wall clock really is something very unique.
Available in four colours (red, black, blue and ivory), this wall clock has a very stylish 1970's square design finished off beautifully with chrome. It would work in a number of rooms but is just about perfect for a retro styled kitchen. It features a plastic design with a 30 cm diameter glass face. This, together with its large black numerals and black clock hands, ensure that it is easy to read from any angle